Trauma comes in many forms from a variety of causes.  Early childhood issues ranging from abandonment to abuse, from head injury and stroke, to the loss of a loved one.  Being bullied or having your self esteem challenged.  Many situations we have endured wire our brains in certain ways, the good news is that those habitual responses can be altered with neurotherapy.  Below are some of the many studies on this important area of improving your responses based on those experiences. 
Gapen, M., van der Kolk, B. A., Hamlin, E., Hirshberg, L., Suvak, M., Spinazzola J. (2016). A pilot study of neurofeedback for chronic PTSD. Applied Psychophysiology and Biofeedback
We found that neurofeedback significantly reduced PTSD symptoms (Davidson Trauma Scale scores averaged 69.14 at baseline to 49.26 at termination), and preceded gains in affect regulation (Inventory of Altered Self-Capacities-Affect Dysregulation scores averaged 23.63 at baseline to 17.20 at termination)
Utilization of Infra-Low Frequency Neurofeedback in the Recovery from trauma of torture victims among war refugees in Sweden.
by Othmer S PhD
Summary: In follow-up of a previously successful pilot study by the Swedish Red Cross in Malmö, the Red Cross in Stockholm undertook to evaluate Infra-Low Frequency Neurofeedback Training with victims of torture who had not responded to conventional treatment for period of from six months to several years. Five such refugees were offered twenty sessions of ILF neurofeedback, and demonstrated substantial recovery for the symptoms being tracked.
The summary results are shown here: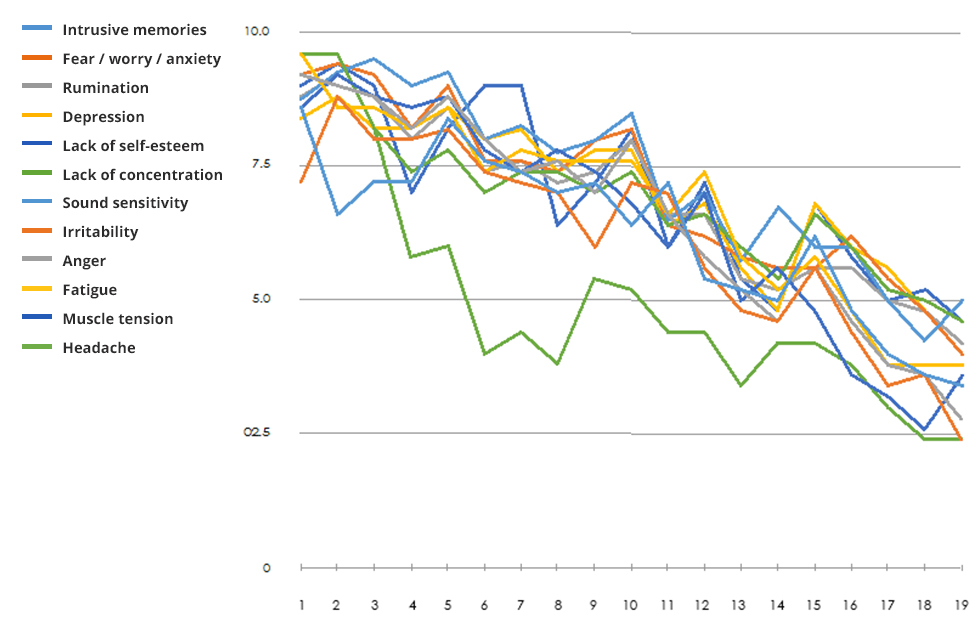 Figure 1: Average recovery curves for the five participants are indicated in the Figure for eighteen of the twenty sessions, for the symptoms listed in the legend. The first symptom appraisal took place only after the first session, and the last assessment took place at the twentieth session, and therefore does not reflect the gains attributable to the first and last sessions. Substantial remediation of their critical complaints is indicated.
When all the symptoms are averaged, the following curve is obtained: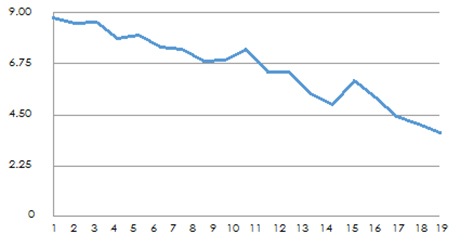 Figure 2: Average value for all patients and all symptoms. A decline by more than 50% in severity over the 18 sessions is observed.
There is no indication yet of a plateau being reached in the training, so additional sessions are likely to be useful.
This is expected on the basis of all the prior work with PTSD in general, and torture victims in particular.
Read Full Article
(Unofficial translation. Not approved by the Swedish Red Cross)
Remediation of PTSD using Infra-Low Frequency Neurofeedback Training
by Othmer S PhD
EEG Info Newsletter – March 7, 2012
ABSTRACT
The careers of the scientist/practitioners in the field have undoubtedly had in common the experience of gradually rising expectations about what is possible to achieve in terms of improved self-regulatory capacity and mental functioning with the aid of neurofeedback. One might have expected some plateauing after a while, a firming up of one's expectations, but the surprises keep coming and they are consistently on the upside. In our own experience, one of the biggest surprises has been the growing effectiveness of neurofeedback with PTSD, along with the related conditions of developmental trauma and the autism spectrum. All of these conditions had seemed so utterly intractable in the past.
Post Traumatic Stress Disorder – The Neurofeedback Remedy [pdf]
by Othmer S PhD, Othmer S BA
Biofeedback Magazine, Volume 37, Issue 1, pp. 24-31 (2009)
© Association for Applied Psychophysiology & Biofeedback: aapb.org
ABSTRACT
The application of neurofeedback to post traumatic stress disorder (PTSD) in returning veterans is described herein and is illustrated with two case histories. Initially, frequency-based electroencephalogram training was employed to promote functional recovery, in the manner of the traditional sensorimotor rhythm/beta approach. An optimization procedure was employed in which the reinforcement frequency is tailored to the client on the basis of symptom response, with particular regard for the regulation of arousal.
Recovery from PTSD: A Vietnam Veteran
by Othmer S PhD
EEG Info Newsletter – February 19, 2009
ABSTRACT
We have just experienced a remarkably quick recovery from PTSD symptoms in a Vietnam veteran. The case is illustrative of the more rapid pace of recovery that is achievable with the latest neurofeedback techniques that encompass the infra-low range of EEG frequencies. The veteran has had a forty-year history of PTSD, and was rescued from homelessness by the Salvation Army here in Los Angeles. He came to our offices for intensive neurofeedback training through the auspices of the Salvation Army. In exchange for our providing services at no cost, the veteran has allowed us to make his case history available for the benefit of other clinicians.
EEG Feedback for Post Traumatic Stress Disorder (PTSD)
by Othmer S PhD
EEG Info Newsletter – April 21, 2008
ABSTRACT
The utility of EEG feedback or Neurofeedback in the resolution of Post-Traumatic Stress Disorder has already been established in research going back more than a decade. We now use it routinely with veterans in connection with our volunteer services (through Homecoming for Veterans – hc4v.org ). The world at large, however, remains to be convinced of the superiority of EEG feedback in the resolution of PTSD.
The Peniston-Kulkosky Brainwave Neurofeedback Therapeutic Protocol: The Future Psychotherapy for Alcoholism/PTSD/Behavioral Medicine
by Peniston EO Ed.D., A.B.M.P.P., B.C.E.T.S., F.A.A.E.T.S.
ABSTRACT
Electroencephalographic (EEG) biofeedback has been in use since the early 1970's for treatment of anxiety disorders and a variety of psychosomatic disorders. Early work conducted by researchers such as Kamiya and Kliterman focused on alpha wave biofeedback (Kamyi &anp; Noles, 1970). Much of this initial research associated changes in EEG state with different states of consciousness (Basmajian, 1989).
The Effects of Brief, Eyes-Open Alpha Brain Wave Training with Audio and Video Relaxation Induction on the EEG of 77 Army Reservists
by Putman J M.A.
ABSTRACT
Recently, psychologist Barry Sterman of the UCLA School of Medicine became involved in measuring the brainwave activity of pilots engaged in a variety of tasks for the purpose of identifying the brainwave correlates of peak performance under different load conditions.
Child trauma, Attachment and Biofeedback Mitigation [abs.]
by Pop-Jordanova N and Zorcec T
ABSTRACT
The aim of this study is to investigate the correlation between the quality of attachment in early infancy and the effects of child trauma, as well as to introduce some innovative therapeutic approaches. For this reason, a group of 10 children manifesting post-traumatic stress disorder (PTSD), diagnosed by ICD-10, was selected.
Reiter, K., Andersen, S. B., Carlsson, J. (2016). Neurofeedback treatment and posttraumatic stress disorder: effectiveness of neurofeedback on posttraumatic stress disorder and the optimal choice of protocol. The Journal of Nervous and Mental Disease
Neurofeedback is an alternative, noninvasive approach used in the treatment of a wide range of neuropsychiatric disorders, including posttraumatic stress disorder (PTSD). The optimistic results presented here qualify neurofeedback as probably efficacious for PTSD treatment.

For more information please visit…
ISNR
The International Society for Neuronal Regulation and Research        a well maintained bibliography of neurofeedback research
EEGInfo
A well organized page on the major studies on neurofeedback and its applications.